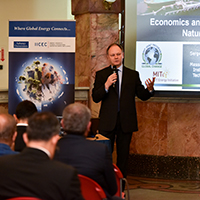 The Economics and Geopolitics of Natural Gas
By Mark Dwortzan | MIT Joint Program on the Science and Policy of Global Change
Mark Dwortzan | MIT Joint Program on the Science and Policy of Global Change
In September, Joint Program Deputy Director Sergey Paltsev delivered a presentation on the economics and geopolitics of natural gas to graduate students, energy industry executives and representatives from energy-related associations at Sabancı University's International Center for Energy and Climate (IICEC) in Istanbul, Turkey.
Paltsev emphasized the need to become knowledgeable about traditional fuels such as natural gas, oil and coal when making investments in alternative energy options.
"If you're trying to understand the role of renewables, solar, wind, geothermal, carbon capture and sequestration, and biofuels, you need to understand the main competitors," he said. "Because if you are serious about doing something different, you need to understand the economics of the current producers, the resources, how the markets are going into the future, and the prospects of the so-called traditional fuels."
Toward that end, Paltsev highlighted a number of recent economic and geopolitical developments that are shaping natural gas markets across the globe. These include Saudi Arabia's actions that resulted in global oil price reductions, which have, in turn, led to lower natural  gas prices and dampened prospects for liquefied natural gas projects in the US and Australia; efforts by the European Union to reduce its dependence on Russian gas, and the emergence of Iran (due to sanctions relief provided in the nuclear deal) as a potential alternative supplier; and climate change policies designed to lower greenhouse gas emissions and keep more coal, oil and natural gas in the ground.
The talk can be viewed here.
Photo courtesy of Sabanci University