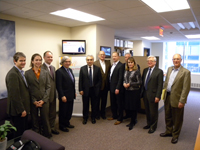 By: Vicki Ekstrom
Fatih Birol, chief economist of the International Energy Agency (IEA), visited MIT on Wednesday, November 28 to present this year's World Energy Outlook. While on campus, Birol met with researchers at the Joint Program on Global Change to learn about the latest developments on climate change policy and MIT's Emissions Predictions and Policy Analysis (EPPA) model. The model is used by MIT researchers to make their own world economic and emissions projections.
"We had a very productive discussion about the future of the world's energy system development and advances in modeling alternative pathways. We also shared information about our current projects and future directions," said Sergey Paltsev, assistant director for economic research at the MIT Joint Program on Global Change, after the meeting. "IEA's World Energy Outlook is one the most comprehensive and authoritative sources in energy projections and related carbon emissions."
Birol also commented on the usefulness of the exchange:
"As our World Energy Outlook 2012 shows, the global energy system is undergoing fundamental, rapid change. MIT's proven, interdisciplinary approach to research and education in energy and climate issues will be even more important in the years to come," Birol said.
Named by Forbes magazine as one of the most influential people on the global energy scene, Birol chairs the World Economic Forum's Energy Advisory Board and is often called on to brief high-level political figures — including President Barack Obama.
Birol's meeting with Paltsev, along with MIT Global Change researchers Henry Jacoby and Valerie Karplus, came prior to an MIT Energy Initiative-hosted event on the IEA's World Energy Outlook. The Outlook projects that the United States will become the world's leading oil producer within a few decades, while gas will continue to be a major player. It also turns attention to climate change.
"As each year passes without clear signals to drive investment in clean energy, the 'lock-in' of high-carbon infrastructure is making it harder and more expensive to meet our energy security and climate goals," said Birol when IEA released the Outlook on November 9.
The Outlook finds that four-fifths of the total energy-related carbon emissions permitted under a scenario that limits warming to 2°C, the globally-agreed goal, are already locked-in by existing capital stock such as power stations, buildings and factories. It warns that without further action by 2017, the energy-related infrastructure in place would generate all the carbon emissions allowed up to 2035. Delaying action is a false economy, the report says, noting that for every $1 of investment in cleaner technology that is avoided in the power sector before 2020, an additional $4.30 would need to be spent after 2020 to compensate for the increased emissions.
Read more about the Outlook in a special MIT News interview with Fatih Birol here.
Date:
Friday, November 30, 2012
Associated Joint Program People: