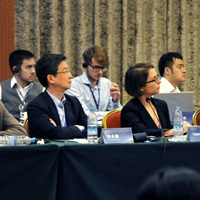 Third Annual Meeting Launches China Energy Outlook
By Paul Kishimoto and Audrey Resutek
By Paul Kishimoto and Audrey Resutek, MIT Joint Program on the Science and Policy of Global Change.
BEIJING—Addressing greenhouse gas emissions growth in China, the largest emitting nation, is essential to any global effort to mitigate climate change. Meanwhile, worsening domestic air quality has placed pressure on policymakers to develop comprehensive policy approaches that balance economic growth, local environmental protection, and global climate mitigation objectives.
 
Against this backdrop, the Tsinghua-MIT China Energy and Climate Project (CECP) convened nearly 100 policymakers, academics, and industry representatives in Beijing last week for a detailed discussion of the opportunities and challenges for climate and energy policy in China.
 
Dr. Valerie Karplus, director of CECP, and Prof. Zhang Xiliang, director of the Institute of Energy, Environment, and Economy at Tsinghua University, presented the results of the China Climate and Energy Outlook, a CECP report analyzing energy and emissions trends in the coming decades.
 
"We see potential for China's rising CO2 emissions to level off and begin declining in the 2025 to 2035 time frame," said Karplus, director of CECP, speaking of the scenario in which China accelerates its energy and climate policies.
 
The Outlook uses key analysis frameworks developed by CECP—the China-in-Global Energy Model (C-GEM) and the China Regional Energy Model (C-REM)—to test what might happen under a set of assumptions about how new policy directives will be implemented.
 
"Our collaboration has many strong advantages that allow us to do systematic analysis of China's energy system in a global context, and make scientific appraisals of energy policies currently under consideration," Zhang said.
 
The Outlook examines projected growth in energy demand, sector by sector, in China's economy, and also identifies what transformations in demand could occur under continued, or accelerated, implementation of energy and climate policies.
 
Among the meetings attendees were senior Chinese policymakers, leading academics in the field, and energy industry representatives.
 
Researchers from both Tsinghua University and MIT noted how the interaction and collaboration among these stakeholders has deepened their understanding of energy issues in China.
 
This project has exceeded our expectations—which were large—in every way," said Dr. John Reilly, codirector of the MIT Joint Program on the Science and Policy of Global Change. "We at MIT understand China much more richly than we did several years ago, and people have come to us asking how to emulate this model of cooperation and collaboration."
 
Prof. Jiang Shengyao, vice president of Tsinghua University cited the progress and productivity of CECP, and expressed how favorably its accomplishments reflected on the university.
 
Key stakeholders attending the meeting included Mr. Sun Chengyong, deputy director general of the Department of Social Development at the Ministry of Science and Technology, Mr. Wang Yi, a member of the Standing Committee of the National People's Congress, Mr. Hu Zhaoguang from the Energy Research Institute of the State Grid Company, and Prof. Fan Ying of the Chinese Academy of Sciences.
 
Speaking in response to the results presented by Karplus and Zhang, these stakeholders emphasized the importance of rigorous, high-quality modeling of China's energy situation and policy proposals, and highlighted key policy questions for ongoing work.
 
In a special session open only to project sponsors and Tsinghua University and MIT researchers and students, CECP researchers heard from Madame Sun Cuihua, deputy director general of the Department of Climate Change at the National Development and Reform Commission, Mr. Wang Zhijun, senior economist at the Office of the Financial and Economic Leading Group of the Central Committee of the Chinese Communist Party, and Mr. Xia Guang, director of the Center for Policy Studies at the Ministry of Environmental Protection. Participants described policy challenges facing the country in their respective areas of expertise and leadership.
 
"Our project provides a rich platform for research, learning, and exchange," Karplus said. "It is an investment in emerging young talent and a rich set of tools and analysis that is well poised to support decisions on climate policy in China and abroad."
 
In conjunction with the event, two CECP researchers also headlined a discussion and networking event open to young professionals in Beijing's energy community, hosted by ICF International, the MIT International Science and Technology Initiatives (MISTI), and the Beijing Energy Network.
The meeting was jointly hosted by Tsinghua University's Institute for Energy, Environment, and Economy and the MIT Joint Program on the Science and Policy of Global Change. Invited experts on electric power system design included Prof. Ignacio Perez-Arriaga of MIT and Comillas University, and Dr. Ouyang Changyu, deputy secretary general of the China Electricity Council.
At MIT the CECP is supported by founding sponsors AFD, Eni, ICF International, and Shell, and receives sustaining sponsorship from the Energy Information Administration at the U.S. Department of Energy. At Tsinghua University, the program is supported by the Ministry of Science and Technology, National Development and Reform Commission, and the National Energy Administration as well as Rio Tinto. Both groups also receive support from the U.S. Energy Foundation.
For more information about the ongoing work of the CECP, including the 2014 Energy Outlook for China, please refer to our annual newsletter.