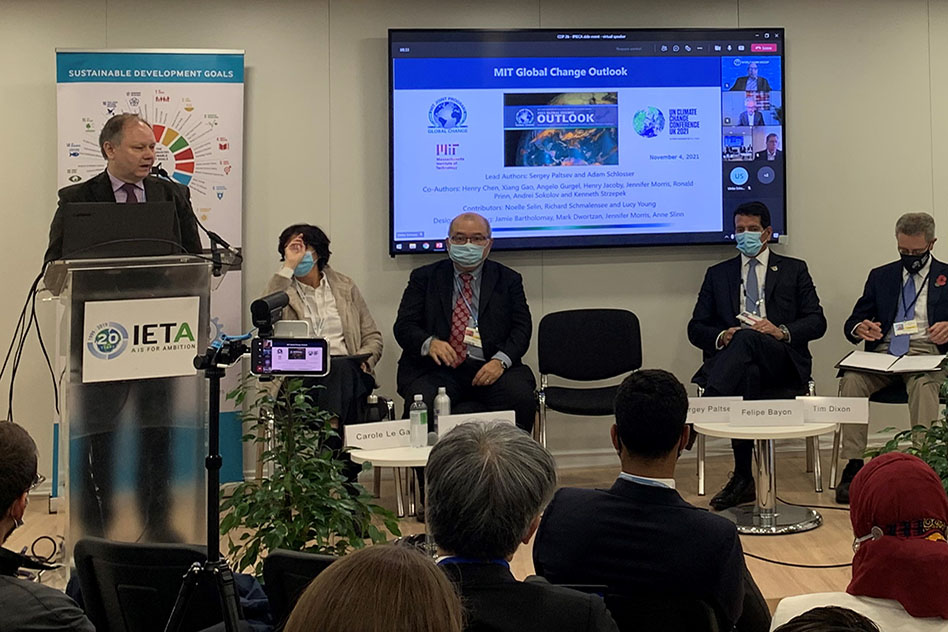 MIT Joint Program at COP26
2021 Global Change Outlook results presented in session on net-zero emissions
By Mark Dwortzan | MIT Joint Program on the Science and Policy of Global Change
On November 4 at the 26th UN Climate Change Conference of the Parties (COP26) in Glasgow, MIT Joint Program on the Science and Policy of Global Change Deputy Director/MIT Energy Initiative Senior Research Scientist Sergey Paltsev delivered a presentation on the Program's 2021 Global Change Outlook. His remarks set the scene for a session on "Contributing to a Net-Zero Future" organized by the International Petroleum Industry Environmental Conservation Association (IPIECA). Session details are shown below.
Paltsev stressed the need to accelerate mitigation actions by all countries, pointing to an ambition gap between the current "pledges" by the countries and an emissions trajectory consistent with the long-term goals of the Paris Agreement.
"We could dramatically reduce overall climate risk through more ambitious policy measures and investments," said Paltsev. "We need to employ an integrated approach of moving to zero-emissions in energy and industry together with sustainable development and nature-based solutions, simultaneously providing human well-being and biodiversity benefits."
Joint Program Research Scientist Kenneth Strzepek also presented research findings at COP26 in three different sessions: (1) a panel on Initial Findings from GCC Climate and Health Report ((in collaboration with Community Jameel); (2) Capacity and tools for building resilience in climate sensitive sectors (Africa Climate Policy Centre); and Integrated Climate Resilience (Strathclyde University & Online). The latter session featured a discussion on "integrated climate resilience focusing on advances in systems-of-systems analytics, supply chain resilience, and new global guidance documents for practitioners."
Outline: COP26 IPIECA side event
CONTRIBUTING TO A NET-ZERO FUTURE.
THE CRUCIAL ROLE OF TECHNOLOGY AND PARTNERSHIPS FOR THE ENERGY TRANSITION AND A SUSTAINABLE FUTURE FOR ALL
BACKGROUND AND SCOPE
• The UK will host the 26th UN Climate Change Conference of the Parties (COP26) in Glasgow on 1st – 12th November 2021. This UN climate summit will bring parties together to accelerate action towards the goals of the Paris Agreement and the UN Framework Convention on Climate Change.
• COP26 is considered significant as it will be the first COP to take place after the landmark Paris Agreement's measures take effect and the first opportunity since then for nations to come together to review commitments and strengthen ambition in the world's aspiration to net zero.
• The concept of net-zero emissions (NZE), often with a specific target date, is a key element of the discussion around low-emission pathways and the energy transitions under the Paris Agreement.
• The IEA has released one of their most important reports on 18th May this year – 'Net Zero by 2050: A roadmap for the global energy system'. This special report maps out a detailed and cost-effective pathway for bringing global energy-related emissions to net zero in time to give the world a good chance of limiting global warming to 1.5˚ C. It sets out a pathway for what is needed from governments, companies, investors, and citizens to ensure global emissions are aligned with limiting temperature rise to 1.5˚C.
• IPIECA member companies are also updating or revising their GHG reduction commitments on a regular basis, all of which raise ambition. Compared to 18-24 months ago, when only one or two IPIECA members had declared net-zero ambitions, more than half of IPIECA members have now publicly announced a net-zero ambition or aspiration by 2050 or a variation thereof.
For a net-zero future all sectors of the economy will require dramatic emissions reductions and innovations. This COP26 side event will discuss the oil and gas sector actions to drive low-carbon technologies, increase global energy access, and sustain efforts to decarbonize across value chains and sectors.
The objectives will be to:
1. Convene and disseminate knowledge and good practice in the area of net-zero emissions as a key element of the energy transition and low-emissions pathways – especially with a focus on
o Improving operations to reach net-zero and
o Forging partnerships to reach societal net-zero and the UN Sustainable Development Goals (SDGs)
2. Receive input and perspective from external stakeholders on societal expectations and pathways in a world aspiring to net-zero emissions.
Agenda
DATE: 4TH NOVEMBER 2021; 10:30 – 12:00 UK TIME
LOCATION: COP26 IN GLASGOW, BLUE ZONE, IETA PAVILION TIME

AGENDA ITEM

PURPOSE

INTRODUCTION (5 MINUTES)

10:30

Welcome, Ulrike Schopp, IPIECA

Introduction to the session

SCENE SETTING (10 MINUTES)

10:35

Energy and climate outlook – Sergey Paltsev, Deputy Director of the MIT Joint Program on the Science and Policy of Global Change Massachusetts Institute of Technology (MIT)

MIT Joint Program's latest projections for the future of the Earth's energy, managed resources and climate

PANEL 1: IMPROVING OPERATIONS TO REACH NET-ZERO (35 MINUTES)

5 MINUTES PER SPEAKER + 15 MINUTES Q&A

10:45

Zubin Bamji, Program Manager for the World Bank's Global Gas Flaring Reduction Partnership (GGFR), World Bank (virtual)

Felipe Bayon, CEO, Ecopetrol

Tim Dixon, General Manager, IEA GHG

Arthur Lee, Chevron Fellow / Senior Strategy Advisor, Chevron

Explore technologies and initiatives which can help to decarbonize industry operations

Q&A

11:05

15-minute Q&A session

Moderator: Charlotte Wolff-Bye, CSO, PETRONAS

For discussion

PANEL 2: PARTNERSHIPS TO REACH NET-ZERO AND THE SDGS (40 MINUTES)

5 MINUTES PER SPEAKER + 15 MINUTES Q&A

11:20

Bjørn Otto Sverdrup, Chair of the OGCI Executive Committee, OGCI (virtual)

Mark Radka, UNEP (virtual)

Carole Le Gall, Sustainability & Climate Director, TotalEnergies

Lahra Liberti, Head of the Natural Resources and Development Unit, OECD (virtual)

Highlight the importance of partnerships that are focused on supporting and facilitating ambitions to achieve net zero emissions and contribute to the achievement of the UN Sustainable Development Goals (SDGs).

Q&A / WRAP-UP

11:45

15-minute session

Moderator: Charlotte Wolff-Bye, CSO, PETRONAS

For discussion and outlook

12:00

END OF MEETING