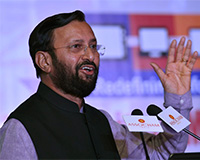 Indian Environment Minister Visits MIT Joint Program on the Science and Policy of Global Change
 

 

Photo: Prakash Javadekar.

 
Prakash Javadekar, the Indian Minister of Environment, Forests and Climate Change, visited MIT yesterday to meet with the Joint Program on the Science and Policy of Global Change. Discussions focused on issues in ongoing international climate negotiations, with a particular interest in rising coastal risk related to climate change. Discussions on environmental data gathering technology were also held.
The visit was hosted by Sai Ravela, a principal research scientist in the Department of Earth, Atmospheric and Planetary Sciences. Ravela's work with the Joint Program focuses on quantifying the risk to coastal infrastructure from hurricanes, storm surge and flooding. Additionally, his work includes developing low-cost autonomous instruments for atmospheric investigations.
The meeting was also attended by faculty and students from departments and centers across MIT, including Earth Atmospheric and Planetary Sciences, Civil and Environmental Engineering, Mechanical Engineering, Economics, and the Tata Center for Technology and Design.
"It was a pleasure to host Mr. Javadekar," says Ravela. "Our discussion with the Minister delved into the facts of the UN climate meeting in Paris this fall and several other issues related to the environment. It was a very lively, insightful discussion."
Among the topics of discussion was India's electricity generation mix.
"Of particular interest was the Minister's discussion of India's commitment to build 185,000 megawatts of renewable and other low carbon electricity capacity over the next five years as part of its contribution to mitigating climate change," says John Reilly, co-director of the Joint Program on the Science and Policy of Global Change.