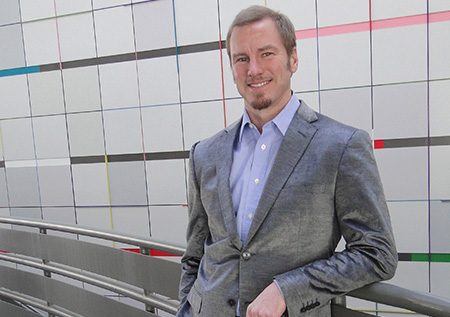 David Ramberg: Understanding the Forces Driving Oil and Natural Gas Prices
Predicting fuel prices is tricky business, since prices regularly fluctuate in response to changes in supply and demand, regulations, political crises, natural disasters, and even changing seasons. MIT graduate student David Ramberg's research adds yet another item to the mix—new technology.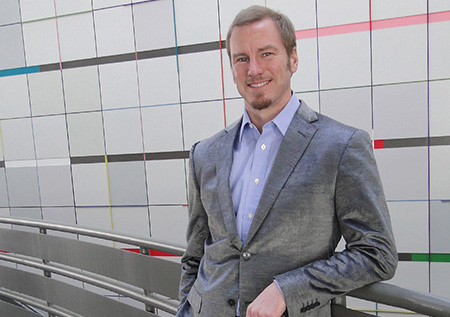 Ramberg studies how new technologies, like Gas-to- Liquids (GTL) plants, affect the prices of oil and natural gas. Although the GTL process itself is not a new technology, GTL plants have been slow to enter the energy market, with the first commercial-scale plants coming online less than a decade ago. As part of his doctoral research, Ramberg integrated GTL refineries into the MIT EPPA Model, the flagship economic research model used at the Joint Program on the Science and Policy of Global Change.
Technology is key to understanding shifts in fuel prices, says Ramberg, whose master's thesis focused on the relationship between oil and natural gas prices. The prices of the two fuels are linked in a pattern based on overlapping infrastructure and production technologies. For years, economists thought this pattern was more or less stable, but Ramberg found evidence that the relationship actually evolves over time.
"Since technology links oil and natural gas prices, I asked myself 'well what happens when you add new technology to the mix?" says Ramberg, who will receive a doctoral degree from MIT's Engineering Systems Division this spring. "How does that change the infrastructure, and how does that change how people use fuels? How do these changes affect the prices?"
Wanted: Economist–writer
Ramberg's career as an energy economist began with a help wanted ad. Having just returned to Oregon after a several-year stint backpacking across Latin America, he noticed the ad from a local energy economics consulting firm in the newspaper. It seemed like a natural fit for Ramberg, who had studied economics as an undergraduate. So he answered it.
"The ad was maybe 10 words long, and they were looking for an economist–writer," he says. "I thought, 'I've always wanted to be a writer and I want to be an economist.' So I went in and interviewed."
Ramberg got the job and spent seven years at the consulting firm, Economic Insight, Inc., where he wrote a monthly statistical publication on oil data for the West Coast of the U.S. and the Pacific Rim countries. He also wrote and reported as the editor of a daily energy market digest called The Energy Market Report.
He continues to work with the firm in his free time. Recently, he consulted on a case before the Federal Energy Regulation Commission (FERC) about a dispute over the pricing of crude oil streams from the Alaska North Slope pipeline. This sort of work informs his research efforts at MIT, he says, in that it gives him a firsthand look at the sorts of decisions facing energy providers.
Practical application
Eventually, Ramberg became interested in understanding the forces at work behind the processes he reported on as a consultant. "I wanted to understand what was driving the markets," Ramberg says. "Why does one commodity cost what it does, while another has a different price?"
He decided to pursue graduate school, first as a masters student in MIT's Technology and Policy Program, and then as a doctoral student, working with the Joint Program. Much of his work as a student is motivated by practical application of economic principles—he chose to study how new technology affects fuel prices because of its immediate relevance for decision-makers.
"Companies want to know, is it going to be worth it to build a new plant?" he says. "The problem is that these plants may run for 30 or 40 years, and companies don't know what fuel prices will be going forward because they're volatile, they're difficult to predict. And the influence that an entire industry of those plants has on prices is difficult to fathom before the industry even exists."
Ramberg cautions though, that focusing exclusively on practical applications is not always the best approach.
"Whenever I learn a new methodology I immediately think about how it could be applied in a practical matter. At the same time, that mindset can blind you to delving into why something works the way it does," he says. "Which is why I'm glad that I'm forced to do that as a student—in the future I'll be able to understand why things work how they do."
After graduation, Ramberg hopes to resume work as an energy consultant, though now with a deeper understanding of the economics behind the energy market.
David Ramberg will receive a Ph.D. from MIT's Engineering Systems Division in Spring 2015. He is also a research assistant at the Joint Program on the Science and Policy of Global Change.