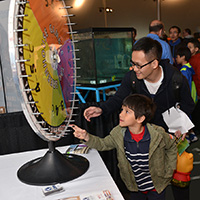 Cool the Planet or Turn up the Heat?
By Mark Dwortzan | MIT Joint Program on the Science and Policy of Global Change
Mark Dwortzan | MIT Joint Program on the Science and Policy of Global Change
In December 2015, 40,000 people from around the world met in Paris to work on solutions to climate change. On April 23, 2016, about the same number attended MIT's Open House for a peak "Under the Dome" at nearly 80 departments and labs, part of a series of events marking the 100th anniversary of the Institute's move from Boston to Cambridge. Not all came to learn about climate change, but those seeking an introduction to the subject could find it, thanks to the Joint Program on the Science and Policy of Global Change.  
At a table inside a tent set up next to MIT's Walker Memorial, Joint Program PhD students and postdocs showed visitors how to work a Climate Calculator to see if they could make the choices needed to reduce the global average temperature enough to save the world from the most disastrous consequences of climate change. They also invited children and adults to spin a Greenhouse Gamble roulette wheel to compare the likely impact of different climate policies on the rate of global warming. An adjacent table featured a video on how Joint Program researchers are combining scientific knowledge with policy analysis to inform decision-making on global environmental challenges that include climate change, air pollution, food insecurity, water shortages, biodiversity loss and more.
In collaboration with MIT Climate CoLab, the Joint Program also offered visitors two 30-minute workshops in a nearby classroom.
In the first, "Intro to the Science of Climate Change," postdoctoral associate Benjamin Brown-Steiner clarified the difference between climate and weather, and explored trends and scientific understandings of changes in temperature, humidity, droughts and other climactic conditions, and their expected impact on our lives and planet. PhD student Paul Kishimoto followed with "Paris Climate Talks: Outcome and Next Steps," in which participants the achievements of the Paris climate talks; why it was lauded by some and panned by others; and what further actions are likely in the years and decades to come.
Special thanks to Ben and Paul; to our table facilitators Michael Davidson, Sae Yun Kwon, Cícero Zanetti de Lima and Qinjian Jin; and to our logistics volunteers Kirby Ledvina, Amanda Chi Wen Giang, Dimonika Bray and Melissa Fox.
Photo: Two generations take a spin at the Greenhouse Gamble wheel (Photo by Dimonika Bray)