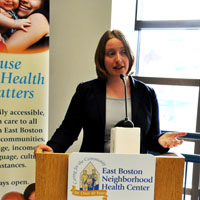 Dr. Noelle Selin of the MIT Joint Program on the Science and Policy of Global Change has been selected as one of 20 Leopold Leadership Fellows for 2013. She is the first fellow to be selected from the Massachusetts Institute of Technology.
 
Based at the Stanford Woods Institute for the Environment, the Leopold Leadership Program provides outstanding academic environmental researchers with skills and approaches for communicating and working with partners in NGOs, business, government and communities to integrate science in to decision making.
 
Selin is among the 20 mid-career academic environmental researchers named as fellows this year. The group was selected through a highly competitive process on the basis of their exceptional scientific qualifications, demonstrated leadership ability, and strong interest in sharing their knowledge beyond traditional academic audiences. The fellows will take part in intensive leadership and communications training designed to hone their skills in engaging with decision-makers, media, and the public. They also become part of a network of past fellows and program advisors who are working with leaders, both within and outside academia, to solve society's most pressing environmental and sustainability challenges.
The 2013 fellows are doing innovative research in a wide range of disciplines, including ecology, marine science, economics, behavioral science, entomology, engineering and planning. They join a network of 175 past fellows who areengaged in broad-based efforts to solve society's most pressing sustainability challenges.
Associated Joint Program People: