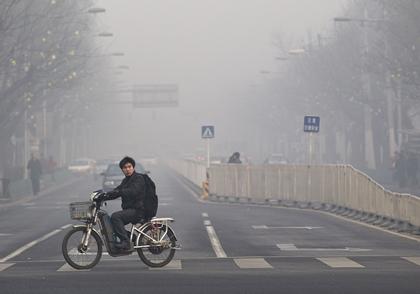 SOURCE: Andy Wong, AP
By: Wendy Koch
China's unprecedented growth is carrying a steadily steeper price tag as its air pollution hikes the nation's health care costs, finds a new study by the Massachusetts Institute of Technology.
Although China has made substantial progress in reducing its air pollution, MIT researchers say its economic impact has jumped from $22 billion in 1975 to $112 billion in 2005. The costs result from both lost labor and the increased need for health care because ozone and particulates in air can cause respiratory and cardiovascular diseases.
"The results clearly indicate that ozone and particulate matter have substantially impacted the Chinese economy over the past 30 years," Noelle Selin, an assistant MIT professor of engineering systems and atmospheric chemistry, said in announcing the findings that appear in the February edition of the journal Global Environmental Change.
The study, by researchers at the MIT Joint Program on the Science and Policy of Global Change, said pollution's economic impact has grown, because population growth increased the number of people exposed to it and higher incomes raised the costs associated with lost productivity.
The study "finds that the damages are even greater than previously thought," said Kelly Sims Gallagher, an associate professor of energy and environmental policy at Tufts University's Fletcher School, in the MIT announcement.
The researchers calculated these long-term impacts using atmospheric and economic modeling tools, which were especially important when it came to assessing the cumulative impact of ozone. They said China has only recently begun to monitor ozone , and it's become the world's largest emitter of mercury, carbon dioxide and other pollutants.
In the 1980s, they said China's particulate-matter concentrations were at least 10 to 16 times higher than the World Health Organization's annual guidelines. Even after major improvements, by 2005, they said the concentrations were still five times higher than what is considered safe and led to 656,000 premature deaths in China each year.
China is taking steps to mitigate air pollution, in partly by boosting its support for renewable energy sources such as wind and solar. Its hefty subsidies to its solar industry have prompted some U.S. manufacturers to file a complaint with the International Trade Commission. In January, the nation set a target to reduce its 2010 levels of carbon intensity (the amount of carbon emitted per unit of gross domestic product) 17% by 2015.
Date:
Tuesday, February 14, 2012