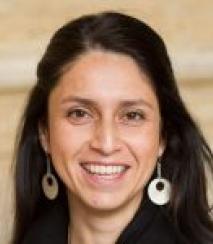 Karen Tapia-Ahumada
Research Scientist, MIT Energy Initiative
Focus Areas
Managed Resources,
Energy Transition
Bio
Karen has been a research scientist at MITEI since 2014. Her interests include the operation and planning of electric power systems, renewable energy generation, distributed energy resources, and the market and regulatory structures required to support the development of sustainable energy systems.
She is currently working on several topics such as energy security issues; assessing natural gas fueled distributed generation under different market and regulatory conditions; and the development of analytical tools to explore the impact of distributed generation from the consumers perspective. Past projects focused on the development of an integrated economy-wide electric power system modeling framework to analyze the impacts of wind large-scale penetration within an electric system and other economy sectors; analysis of the operational impacts of having increasing levels of micro-combined heat and power systems in an electric system and the impacts of sending different economic signals to price responsive retail customers.
Karen holds a PhD in Engineering Systems and a MS in Technology and Policy from MIT. Before that, she received her BS and a MS in Industrial Electrical Engineering from the Pontifical Catholic University of Chile.