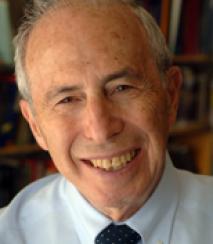 Richard Eckaus
Ford International Professor of Economics, Emeritus
Focus Areas
Infrastructure & Investment,
Policy Scenarios,
Climate Policy,
Regional Analysis
Bio
Biographical Statement:
Richard Eckaus is an expert in macroeconomics, fiscal policy and environmental economics. He is a former consultant to the World Bank, and has been an adviser on economic policy to Egypt, India, Mexico and Portugal, among other countries. He taught at Washington University, Michigan State University and Brandeis University before joining the Department of Economics, MIT in 1962, where he became the Head of the Department from 1986 to 1990. Professor Eckaus has published many research and policy papers on a wide range of problems of developing countries and has been a consultant to international development agencies and government economic agencies in countries in South America, the Caribbean, Europe, North Africa, the Arabian Peninsula and Asia. He is the recipient from the Portuguese government of the Great Cross of the Order of Prince Henry the Navigator. He has also studied and published research and policy papers on economic issues related to global warming.
Selected Publications:
Asadoorian, M.O., R.S. Eckaus & C.A. Schlosser, 2008: Modeling climate feedbacks to electricity demand: The case of China, Energy Economics, 30(4): 1577-1602
Babiker, M.H. & R.S. Eckaus, 2007: Unemployment effects of climate policy, Environmental Science and Policy, 10(7-8): 600-609
Wing, I. Sue & R.S. Eckaus, 2007: The implications of the historical decline in US energy intensity for long-run CO2 emission projections, Energy Policy, 35(11): 5267-5286
Babiker, M.H. and R.S. Eckaus, 2002: Rethinking the Kyoto Emissions Targets, Climatic Change, 54(4):399-414
Eckaus, R.S. and K.K.-Y. Tso, 1999: A Study of the Effects of Natural Fertility, Weather and Productive Inputs in Chinese Agriculture, MIT Joint Program Report 50, July, 15 pages
Prinn, R.G., H.D. Jacoby, A.P. Sokolov, C. Wang, X. Xiao, Z. Yang, R.S. Eckaus, P.H. Stone, A.D. Ellerman, J.M. Melillo, J. Fitzmaurice, D. Kicklighter, G. Holian and Y. Liu, 1999: Integrated global system model (IGSM) for climate policy assessment: Feedbacks and sensitivity studies, Climatic Change, 41(3): 469-549
Jacoby, H., R. Eckhaus, A.D. Ellerman, R. Prinn, D. Reiner and Z. Yang, 1997: CO2 emissions limits: Economic adjustments and the distribution of burdens, Energy Journal, 18(3): 31-58
Eckaus, R.S., H.D. Jacoby, A.D. Ellerman, W-C. Leung and Z. Yang, 1997: Economic assessment of CO2 capture and disposal, Energy Conversion and Management, 38: S621-S627